Thursday, december 6, 2007 – 5h30 PM to 6h30 PM


Marie Mc Andrew is a full professor in the Department of Educational Administration and Foundations, at the University of
Montreal. Since June 2003, she holds the Chair for Ethnic Relations and in June 2006, she was awarded a SSHRC Canada Senior
Research Chair on Education and Ethnic Relations. In June 2005, she received the Prix québécois de la citoyenneté Jacques-
Couture pour le rapprochement interculturel, in recognition of the relevance of her involvement in research and dissemination for
the development of public policies, better adapted to pluralism. She is also a member of the Consultative Committee on
integration and reasonable accommodation in the school setting, established by the minister of Education of Quebec in October
2006.

ÉQUITÉ ET IMPUTABILITÉ EN ÉDUCATION: PERTINENCE ET LIMITES DES INDICATEURS ETHNIQUES (PDF) (PowerPoint)
.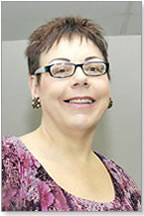 Marie Mc Andrew
Canada research Chair on Education and Ethnic
Relations