Centre interuniversitaire québécois de statistiques sociales (CIQSS)
CIQSS - QICSS
Quebec Inter-University Centre for Social Statistics
QICSS in brief
The Quebec inter-University Centre for Social Statistics (QICSS) offers access to detailed data from large-scale surveys carried out by Statistics Canada and the Institut de la statistique du Québec. It also provides the workspace, equipment and professional as well as technical resources needed to exploit these surveys.
The QICSS was established with the specific aim of promoting research within the field of social statistics in Quebec. Central to the project has been the creation of a secure environment in a university setting, where researchers can have access to microdata from Statistics Canada and Institut de la statistique du Québec large-scale population surveys, while respecting the rules of confidentiality. The QICSS' mission does not stop there, however; it also offers support, training and activities designed to disseminate research findings. By bringing under one roof researchers from different institutions and disciplines, the QICSS has become a hub of scientific activity in the field of social statistics in Quebec, Canada and in the international arena.

The QICSS has three main goals:

Support and develop cutting-edge research in the field of social statistics
Expand the pool of social statistics researchers and train the next generation
Make research findings and their implications known to a wider audience
The Quebec Inter-University Centre for Social Statistics (QICSS) was created in July 2000 as part of the Canadian Initiative on Social Statistics (CISS), developed by the Social Sciences and Humanities Research Council (SSHRC) and Statistics Canada. The QICSS is the only Quebec member of the Canadian Network of Statistics Canada Research Data Centres, a key component of the CISS.

In April 2005, the QICSS signed an important partnership agreement with the Institut de la statistique du Québec (ISQ), on the productive collaboration model developed with Statistics Canada. This agreement means that the QICSS is now in a position to offer the scientific community access to ISQ survey microdata, through the creation of an on-site Institut de la statistique du Québec Research Data Centre (CADRISQ).

The QICSS incorporates all Quebec universities. This association arose from the need for deeper insights into key social questions (family dynamics, child development, social determinants of health, income and poverty issues, integration of immigrants, young people's transition to adulthood, etc.).

The QICSS' creation has provided Quebec with an infrastructure of the highest quality, and with an excellent environment for research and training in the latest methods for quantitative analysis - the essential conditions for Quebec's scientific community to retain its leadership and keep apace with the rapid developments in social statistics.
Since June 2015, the QICSS is directed by Benoît DOSTIE, professor at HEC Montréal's Department of Applied Economics.

The QICSS is run by a management committee, made up of the director of the QICSS, the Dean of the Faculty of Arts and Sciences of Université de Montréal, Laurent LEWIS, and a representative from each member institutions:

Prominent within social statistics, and from different disciplines (health, economics, demography, geography, sociology, education), these researchers belong to a variety of research networks in Quebec, Canada and internationally. The breadth and diversity of their combined expertise constitutes a source of great wealth for the QICSS.
Canadian Research Data Centre Network branches are laboratories on the campus of institutions affiliated to regular RDCs. Branches offer access to the same Statistics Canada microdata as a RDC in the same secure conditions. Branches facilitate collaborative projects between institutions and make it easier to conduct research using Statistics Canada microdata by reducing the need for researchers to travel.

There are 4 QICSS branches on campuses to serve the research community in Quebec. Each branch is administered by its own management committee: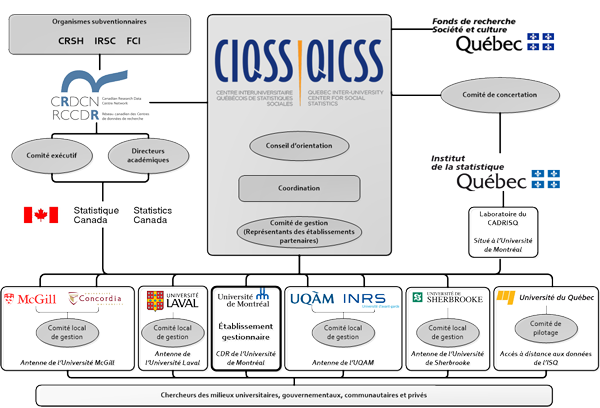 In 2005, the QICSS formed an External Advisory Committee, whose main function is to define the direction future developments should take. The Committee meets once a year to discuss mandates and priorities for the coming year.

QICSS External Advisory Committee - Summer 2013


Three international experts :

George Alter, directeur, Inter-university Consortium for Political and Social Research (ICPSR), Michigan University.
Roxane Silberman, secrétaire générale du Comité de concertation pour les données en sciences sociales, Réseau Quételet (Paris).
Lars Vilhuber, directeur exécutif, Labor Dynamics Institute, Cornell University. Lars a travaillé avec le US Bureau et est spécialisé dans l'analyse des microdonnées des entreprises, notamment celles de l'EMTE exploitées au CIQSS.


Canadian researchers and specialists from various fields related to the datasets:

Roderic Beaujot, sociologue démographe, responsable du Réseau stratégique de connaissances « Changements de population et parcours de vie », directeur du centre de données de recherche de l'Université Western Ontario.
Janet Halliwell, membre du conseil d'administration de Genome British Columbia (ex- présidente de l'organisme), expérience de recherche et d'administration à la FCI et au CRSHC, notamment.
Céline LeBourdais, sociologie, Université McGill, directrice de l'antenne McGill- Concordia du CIQSS et titulaire de la Chaire de recherche du Canada en statistiques sociales et changement familial, directrice du CIQSS à sa fondation et pendant dix ans, membre fondatrice du Réseau canadien des centres de données de recherche, membre du Conseil national de la statistique. Céline a accepté de présider le Conseil d'orientation.
Alain Marchand, relations industrielles, Université de Montréal, responsable du Regroupement Déterminants sociaux de la santé à l'Institut de recherche en santé publique de l'Université de Montréal.
Pierre-Carl Michaud, sciences économiques, Université du Québec à Montréal, membre de CIRANO et du CIRPEE (expérience de recherche comparée avec des données autres que canadiennes, spécialiste du vieillessement).


Two representatives of the Quebec and federal statistical agencies:

Jane Badets, directrice générale de la direction des domaines spécialisés du recensement, de la statistique sociale et de la démographie, Statistique Canada
Patricia Caris, directrice générale adjointe aux statistiques et à l'analyse sociale, Institut de la statistique du Québec


The committee also includes:

Danielle Gauvreau, directrice académique du CIQSS, Université Concordia
Jean Poirier, directeur adjoint du CIQSS, Université de Montréal
Laurent Lewis, vice-doyen de la Faculté des Arts et sciences, Université de Montréal
The QICSS receives substantial funding for its operation from the Fonds de recherche du Québec (FRQ) : since 2002 from the Fonds Société Culture (FRQSC) and since 2014 from the Fonds Santé (FRQS).

The Social Sciences and Humanities Research Council (SSHRC) and the Canadian Institute for Health Research (CIHR) also assist with the running costs of the research data network member centres, the QICSS among them. Different grants from the Canada Foundation for Innovation (CFI) covered the costs of installing a well-equipped infrastructure at the QICSS, enabling researchers to carry out leading-edge research in social statistics.

The annual contribution from QICSS's university members – l'Université de Sherbrooke, l'Institut national de la recherche scientifique, Concordia University, l'Université Laval, McGill University, l'Université du Québec à Montréa, le Réseau des Universités du Québecl and l'Université de Montréal – guarantees a large portion of the resources needed to support research, training, promotion and dissemination.

The QICSS also benefits from the financial support of partners in the organization of specific activities.